Featured Stories, MIT EAPS, News | May 18, 2018
McGee Receives Excellence In Mentoring Award
EAPS Associate Professor of Paleoclimatology, David McGee, has been awarded the Excellence In Mentoring Award by the office of Undergraduate Advising and Academic Programming.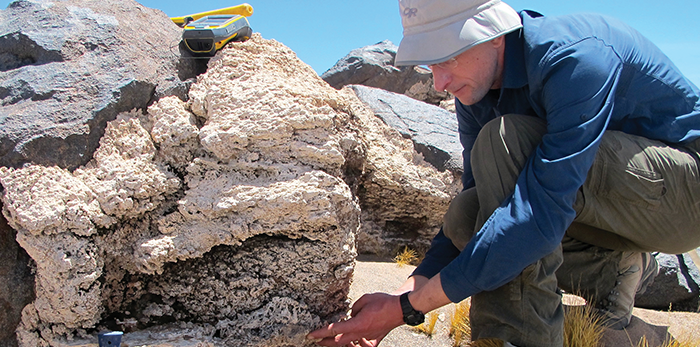 By EAPS News
Read the award announcement at the Undergraduate Advising and Academic Programming
Each spring, the Undergraduate Advising and Academic Programming office presents awards to celebrate the outstanding contributions of first year students, their advisors, and associate advisors. The Excellence In Mentoring Award "honors an advisor who is deeply invested in mentorship. This advisor understands that mentoring goes beyond giving academic advice. S/he is a role model and is committed to the holistic growth and development of first year students."
David McGee's research focuses on understanding the atmosphere's response to past climate changes. By documenting past changes in precipitation and winds using geochemical measurements of stalagmites, lake deposits and marine sediments and interpreting these records in the light of models and theory, he aims to offer data-based insights into the patterns, pace and magnitude of past hydroclimate changes. His primary tool is measurements of uranium-series isotopes, which provide precise uranium-thorium dates for stalagmites and lake deposits and allow reconstructions of windblown dust emission and transport using marine sediments.
McGee has served as Director of Terrascope, an MIT First Year Learning Community since 2016.
McGee joined the faculty in 2012 after completing a postdoctoral fellowship with a joint appointment at the University of Minnesota and the Lamont-Doherty Earth Observatory. He holds a Ph.D. in Earth and environmental sciences from Columbia University.