Featured Stories, Joint Program on the Science and Policy of Global Change, MIT, MIT EAPS, News | May 14, 2017
Noelle Selin Awarded Tenure
Congratulations to Noelle Selin, EAPS and IDSS professor and PAOC member, for her promotion to Associate Professor with Tenure by the Executive Committee of the Corporation.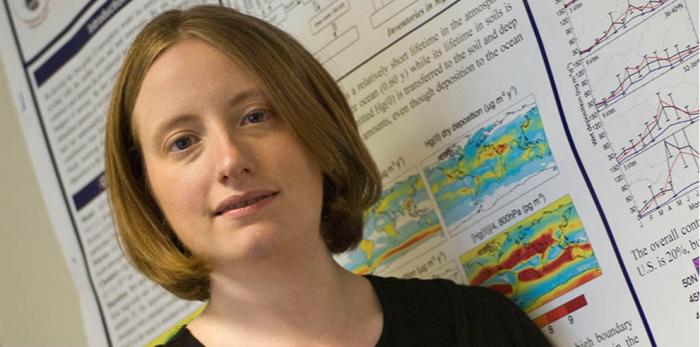 By MIT IDSS
"This is a well-deserved promotion recognizing their outstanding contributions to research and education in their fields," said IDSS director Munther Dahleh in an announcement of the promotions.
Professor Noelle Selin is nationally and internationally recognized for her work on understanding the pathways from emissions to impacts for pollutants that are present in the atmosphere, in policy-relevant ways. Her research addresses, at a systems level, the full cycle that relates human behavior to policy. This is captured in the following cycle: human activity impact the levels of atmospheric pollutants, atmospheric pollutants can have health effects on humans, and such effects have economic effects that can impact policy—which in turn affects human behavior.
Selin came to MIT in 2007 as a postdoctoral associate at the Center for Global Change Science after completing her PhD at Harvard in Earth and Planetary Sciences (EAPS). She joined the Engineering Systems Division as an assistant professor in 2010 with a joint appointment EAPS. She was promoted to associate professor without tenure in July 2015.
Selin has served as associate director for the Technology and Policy Program (TPP) since July 2015. She is also a member of the campus sustainability task force, the Center for Environmental Health Sciences (CEHS) internal advisory committee, and the MIT Press editorial board. Externally, she is co-chair of the Chemistry-Climate Working Group, Community Earth Systems Model (CESM) (2014-present), and co-chair of the Working Group for International GEOS-Chem Steering Committee (atmospheric model oversight, 2011-present). She is a member of the Executive Committee of the International Conference on Mercury as a Global Pollutant (2017), and the Scientific Advisory Committee; the Center for Air, Climate, and Energy Solutions (CACES); Carnegie Mellon University; and others.
She has substantially contributed to the curriculum in ESD/IDSS and the Technology and Policy Program (TPP). She is the winner of several awards including the NSF CAREER Award, the Kavli Frontiers of Science Fellow, and an Environmental Science & Technology best policy paper award. Her work has had an impact on environmental policy and has often been referenced by the EPA.
Read the full story at IDSS.